Company News
Silicone placemat one-piece plate for babies portable fda approved.
Publish Date: 2017-08-28 Click: 128
USSE silicone baby placemat, cute reusable kids plate that will make every meal a fun time. The placemat, including eyes, nose and mouth, made of 100% BPA free silicone. This silicone placemat one-piece plate for babies has a strong sticky table suction and if you place it on a flat surface, it'll be very hard for your kids or toddlers to lift it up.
The silicone placemat is divided in 3 bowls giving you the option to serve different types of food to your kids without mixing it. Save time and effort by using the plate in the microwave and putting it in the dishwasher when you are done. You can also use the placemat in the oven and store it in the fridge. The baby placemat really pops out making it fun gift for a babyshower or for a grandparent or other relative to give to the new parents
bout the product.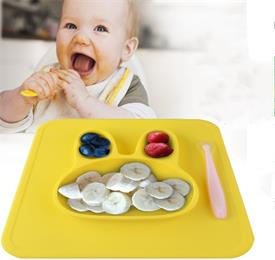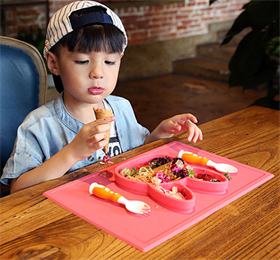 Forget about the mess on the table when serving your little babies. No more tipping & tossing dishware with this adorable silicone placemat one-piece plate for babies. Suctions securely to any hard, flat surface. Makes your meal time with your little ones more enjoyable. Multiple compartments allow you to arrange in different food and fruits. Made of food-grade silicone, BPA-free and FDA approved material. No toxins, aftertaste or odors. Folds up easily for dining out.
The kids placemat set can be put into oven, freezer, microwave and dishwasher without any worries. Our USSE silicone placemat one-piece plate for babies are highly durable and they are rated to withstand direct contacts with temperatures in excess of +450 and -40 degrees Fahrenheit. With 4 vibrant color options including Pink, Blue, Orange and Green, these mats are perfect for both boys and girls to enjoy.
For more information, why not contact Hanchuan online service:
please login in: http://www.hcsilicone.cn/articles/info.html
Skype: caiyuan991