Company News
Eiffel Tower silicone tea infuser Export France Carrefour by Hanchuan exclusive design !
Publish Date: 2014-07-24 Click: 2384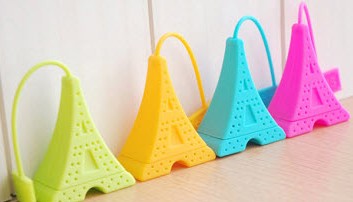 We began worked with France Carrefour in 2011 , they have been ordered Eiffel Tower silicone tea infuser in 2011 , silicone placemats , silicon table hot pad and other silicone bakeware products, including silicone pad in a substantial increase order in 2013 , the new design style and constantly enrich . Silicone -based materials are environmentally friendly and comply with EU LFGB testing standards.

France Carrefour Ordered this Eiffel Tower shape silicone tea infuser is exclusively designed by Hanchuan ,
Product size:17*3*5.5 cm,
weight:46g.
Eiffel Tower silicone tea infuser is 100% food grade silicone material, product design is unique , creative more stylish , simple shape , design inspiration mainly Blocks from a child 's intellectual development products , the children particularly like , a total of six colors to choose from .
Carrefour ordered this Eiffel Tower silicone tea infuser of 30,000 pieces , after a very good sale in October 2013 and he ordered 50,000 /pcs for this silicon table hot pad , We send it by air to France. Hanchuan is professional design and manufacture silicone items for more than 13 years. we exported to Europe and Japan more than 80 countries , there are thousands of models of styles , welcome home and abroad to order !
Custom Norway likes Eiffel Tower silicone tea infuser:http://www.hcsilicone.cn/html/news/201312/1828/1.html
FDA LFGB Export France silicon table hot pad:http://www.hcsilicone.cn/html/products/jj/1.html
New creative food grade silicon table hot pad:http://www.hcsilicone.cn/html/news/201312/1827/1.html
- See more at: http://www.hcsilicone.cn/html/news/201407/1962/1.html#sthash.y549OZjP.dpuf