Company News
Silicone oven gloves with cotton layer, Extra thick heat resistant for cooking Grilling.
Publish Date: 2017-07-07 Click: 466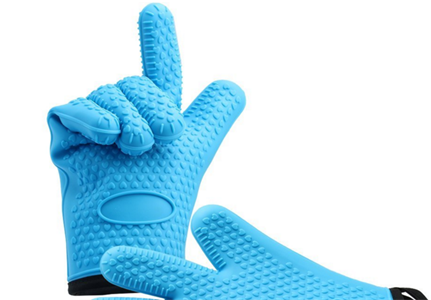 Hanchuan silicone factory USSE brand heat resistant silicone oven gloves with cotton layer protect your hands from burns and scald when you pulling dishes out of microwave oven, taking out the BBQ meat from the grill and draining boiled pasta. USSE grill oven gloves fit most people, medium-size hands and large hands. Perfect for housewife and man. These silicon oven mitts are made from FDA-approved food frade silicone material, what's more, features a cotton lining for comfort and enhanced heat resistance. These silicone glove offers advantages of a silicone mitt with the comfort and flexibility of a traditional mitt.
Extra thick silicone gloves with cotton. Durable silicone on the outside and soft quilted lining gives your hands maximum protection from burns. No more hot water burns or steam burns when doing your daily cooking ever again! UP TO 450ºF heat resisitannt, the gloves protect your hands from the heat coming from the grill and microwave oven too. USSE oven grill gloves can be used in many circumstances such as BBQ preparation, smoker grill handling, kitchen hot potholder, meat tearing, house cleaning and washing clothes in winter etc. You can even wear them for dish washing and freezer cleaning to protect your hands from cold injury.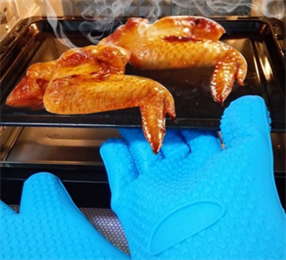 Non-slip textured Gloves, which gives a secure grip to open jars. You won't worry about dropping hot pan and dishes. The eco-friendly gloves are made of 100% food grade silicone, Non-toxic and odorless. You can wear the gloves to tend the BBQ meat and hot roasted chicken. The gloves are waterproof, non-sticky and easy to clean. No-slip five fingers design to allow safe movement of hot items with a strong grip. Length adds extended protection for most of your arm. Enhance your cooking enjoyment and protect yourself from painful burns and scalds with our silicone oven mitts.
Each of our silicone gloves comes with textured gripping surfaces to reduce the risk of accidents. Never again worry about slipping plates, hot pans or steamy ovens. Protect your hands and avoid accidents with insulated waterproof. Non-stick, spotless & odor resistant feature ensures the silicone gloves very easy to clean. Each glove feature a big enough sturdy hanger loop at the top side, easy to hang up. With the design allowing for optimal flexibility and freedom of movement. The palm design of the silicone gloves is large and lengthen arm also protect your arm and your cloth being dirty. Pure silicone oven gloves with cotton layer for cooking, grilling, potholder, camping, pickling, and so much more! Get this one fits all in your family!
For more information, why not contact Hanchuan online service:
please login in: http://www.hcsilicone.cn/articles/info.html
Skype: caiyuan991