Company News
Silicone kitchen glove with fabric lining & inner cotton layer for cooking, best protection ever.
Publish Date: 2017-06-13 Click: 749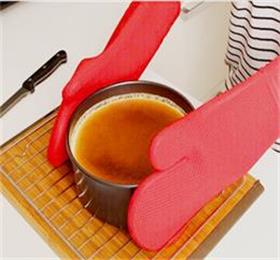 Would you need some fresh fun & entertainment in your kitchen? Hanchuan USSE will be pleased to bring our these silicone kitchen gloves: silicone oven mitts/ pot holder/ baking with fabric lining to you when you're getting bored of daily cooking/baking etc.
Why do we use USSE kitchen cooking gloves? Non-stick / odor resistant, Elegant color & classic outlook, Dishwasher safe and easy to clean, Fabric Lining / inner cotton layer brings extra comfort and flexibility every time you use, Ergonomic anti-slip silicone design for superior grip, No BPA, food grade, FDA compliant, non-toxic, Heat resistant (up to 480F), safe to use, Premium quality silicone ensures long-time usage that will last years.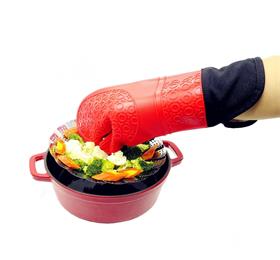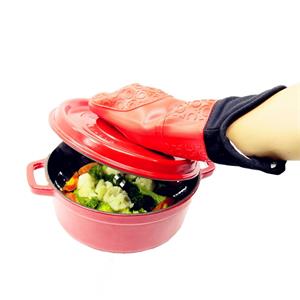 What makes it different? Unique fabric lining design provides extra comfort and flexibility. More improtantly, it helps you hold hot items far more longer than ordinary products in the market. No more worries about getting burned in a short time. Super easy to put on & take off, non-graspy at all. USSE these silicone kitchen gloves with fabric lining can be used in many circumstances like barbeque, baking, cooking, pot-holding, smoker grill handling, house cleaning etc. Non-stick, spotless & odor resistant feature ensures the silicone gloves very easy to clean. Dishwasher safe also!
Premium quality and ultra durable. Silicone material used is non-toxic, FDA compliant and BPA free, heat resistant up to 480°F, completely safe to be used around hot items. Our silicone kitchen gloves are designed to withstand thousands times' usage, totally a money saver! Thus, we would always want to add some cute / attractive / interesting kitchen utensils / gadgets with high quality and affordable prices to your kitchen to save your food preparation time and make it much more fun!
For more information, why not contact Hanchuan online service:
please login in: http://www.hcsilicone.cn/articles/info.html
Skype: caiyuan991