Company News
Canadian coffee shop cooperated with hanchuan to design macaron silicone mat.
Publish Date: 2017-03-23 Click: 856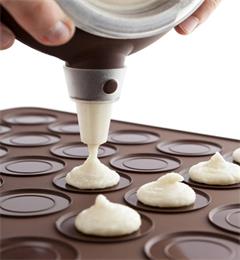 In recent years, the Canadian coffee shop and hotels are using macaron silicone mats, previously has been made of PC plastic material macarons pad. Why all of the coffee shop basically use silicone macaron mat in Canada and the United States over the past few years. It mainly lies in the silicone material, with high temperature resistant, low temperature resistant, prevent slippery, shockproof, easy to clean, durable and other characteristics.
Baking with macaron silicone mats are generally made of food grade silica gel, which has a variety of colors, shapes and patterns. Some macaron silicone mats also have scale and size, it is mainly used for auxiliary may encounter in the process of baking. Macaron mat generally has small volume, light weight, high temperature resistant, prevent slippery performance is good, clean and convenient features, which is a very convenient and practical tool when baked coffee shop.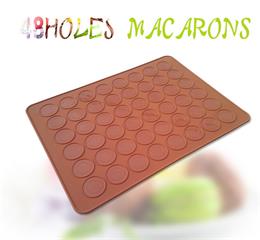 Canadian coffee shop custom macaron 80% silicone pad were required to be simple and practical, don't be too expensive.
Starbucks and basic requirements, macaron mat generally require creative. The price is not the most important, while the customer demands design macaron mat design trends, especially the screen printing process requirement innovation from year to year, the price can be accepted; Canadian coffee shop design macaron mat design is simpler, screen printing is usually 1-3 colors can, and the custom of marca dragon pattern design is more complex, generally screen printing color are more than three colors, more complicated but very fashionable; American coffee shops in terms of materials customized macaron pads are generally not FDA silicone, and European customers customized macaron pad general requirements LFGB silicone material.
Baking macaron silicone mat using silica gel pad when rolling or knead the dough can do physical good prevent slippery and anti-sticking, use less as far as possible dry powder, can keep the dough more moisture. A lot of macaron silicone mats have scale and size, which can be operated in the silica gel mat, convenient to roll out as much as possible you need the size and size of the face, especially the pizza. Can enter the oven to bake, physical non-stick, easy demoulding. When making macaron, silica gel pad can dry macaron, and together into the oven high temperature baking, not only convenient, also can use repeatedly, save resources.
For more information, why not contact Hanchuan online service:
please login in: http://www.hcsilicone.cn/articles/info.html
Skype:caiyuan991