Company News
Why should you use set of 4 small and large collapsible silicone lunch box?
Publish Date: 2018-11-29 Click: 198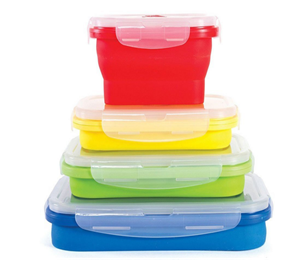 Perfect silicone container set for kids lunch boxes, leftovers, take out or as meal prep container. Each container is great to keep dry or wet foods like cereal, fruits, vegetables, baby foods fresh. Each container is made of BPA free food-grade silicone that is non-toxic, tasteless, odorless, non-stick and easy to clean. Airtight covers make these great for the office, classroom, camping, road trips and more. Rectangular collapsible silicone lunch boxes, food containers for meal prepping collapse to 1/3 their original size with nesting design for maximum organization. Fits into almost all kitchen and pantry compartments or any cabinet or drawer.
Decorative small and large portion control and leak proof lunch boxes come in blue, green, yellow, and red fun colors. Designed with snap on clear locking lids and an air vent for convenient microwave heating. The collapsibles 4 piece lunch boxes set, this quartet is perfect for all your food storage or meal prepping needs. They come in four vibrant colors (red, yellow, green, and blue) and are equipped with airtight vacuum seal grips and snap-on clear, leak-proof lids that feature an air vent for easy heating. On top of that, they even have the ability to collapse to 1/3 of their size to keep you organized and clutter-free.
These lunch box containers are great for storing leftovers but also holding cereal, fruits, veggies, anything really. If it's edible, it'll find a good home and stay fresh with this set. They can handle the heat and the cold. Their airtight lids make these containers freezer safe and the air vent makes them compatible with your microwave for super easy and convenient reheating. Once the reheating is done, clean up is a breeze. This set is non-stick, so don't worry about stubborn cheese or sauce latching to the container. They are also dishwasher safe, so once you're done with your meal, just take them for a spin in the dishwasher.
This container set is designed for your "grab and go" lifestyle. This colorful collapsible silicone lunch box set is made for you to take last nights dinner, some carefully planned meals, cereal to munch on, or your favorite type of sandwich on the road in style. And once you've chowed down, this set is easily collapsible, meaning more space for your backpack, gym bag, tote bag, or even briefcase. This set is meant to see the world.
silicone lunch box: http://www.hcsilicone.cn/products/siliconefoldinglunchbox.html
For more information, why not contact Hanchuan online for more service?
please login in: http://www.hcsilicone.cn/articles/info.html
Skype:caiyuan991