Company News
Silicone placemat+3 compartments plate for kids food+meal dining table feeding
Publish Date: 2017-09-07 Click: 141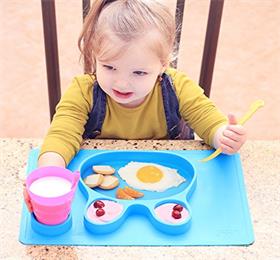 Hanchuan silicone this silicone placemat+3 compartments plate for kids, non-toxic, tasteless and odorless silicone placemat plate is safe to use for infants and toddlers mealtime. Made of 100% food grade silicone approved by FDA, free of BPA, PVC, lead, phthalates and metal. A perfect safety choice for optimum enjoyment. Reusable kids placemats silicone, very easy to clean with warm soapy water or place in the dishwasher and it will not shrink. The high-quality flexion material makes it very easy to store up and portable to pick up whenever you want to feed your baby or toddler.
Each silicone gel placemat is non slip and comes with a strong suction cup by which baby can easily pick up food without tipping over the plate, quickly and firmly adheres to any nonporous surface to prevent mess. An adult pulling force is required to remove after a meal. Our placemats silicone save mom from a lot of mess. Silicone placemats for toddlers are made of 100% sturdy silicone gel material which is not harmful when used in any microwave and oven under temperature -40 to +230 degrees Celsius. Heat resistant without deformation.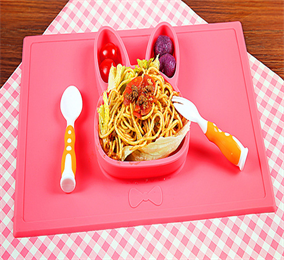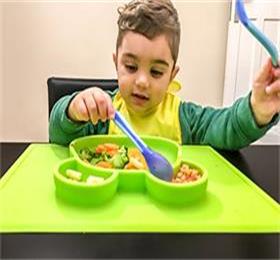 Innovative silicone placemat + 3 compartments plate for kids with cartoon design, which are square and in correct size, stable on a high chair tray (please measure high chair before buy), baby carriage or table and any smooth surface make feeding time easier with a deep edge and 3-section compartments to accommodate a well-balanced diet without spillage. The silicone placemat bowl and tray suction plate is made of 100% eco-friendly FDA-approved, food-grade, anti-microbial silicone gel. silicone placemats contains 3 compartment plate to help your kid in developing a healthy eating habit.
This innovative silicone placemats provide fun at mealtime at home or on the go. Silicone placemat nonslip with suction cups to firmly stay on any flat surface and to effortlessly remove from any surface, grab at the edge and pull up. Easy to clean with warm soapy water after use. Do Your kids try to pull it from the sides? No need to worry, lock it by our additional stronger suction cup from silicone placemat+3 compartments plate for kids. Food grade silicone, without BPA, safe and non-toxic, for optimum meal enjoyment without changing color over time. The square shape and fun, designed not to hurt your baby's skin.
For more information, why not contact Hanchuan online service:
please login in: http://www.hcsilicone.cn/articles/info.html
Skype: caiyuan991