Company News
Perfect gift for children 3-years of age and above reusable coloring silicone baby placemats.
Publish Date: 2017-09-06 Click: 109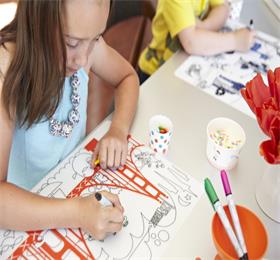 All hanchuan silicone gel USSE products are made from 100% pure, plastic-free, food grade silicone that does not contain lead, fillers, BPA and phthalates. We believe that what you eat on should be just as important as what you eat! We strive to design a plastic-free planet to create better products for a brighter future. The plastic-free USSE silicone baby placemat is crafted out of pure, silky soft silicone and designed for kids of all ages.
Young Picassos will love the playful designs and enchanting characters that adorn our mats, from a whimsical day of Fun on the Golden Gate to wild adventures with our fearless Space Animals. The non-porous and germ-free surface will never wear and tear, so you can roll up the reusable, memory-free mat again and again for endless mealtime fun at home or on the go. Keep the harsh chemicals found in plastics and lower-grade silicones away from your family and out of our landfills with the easy to clean, playful place-mat series.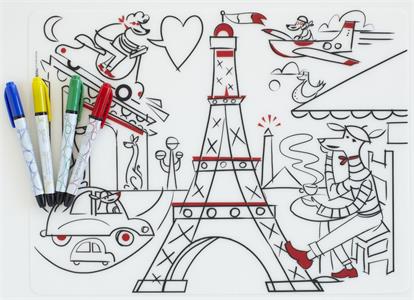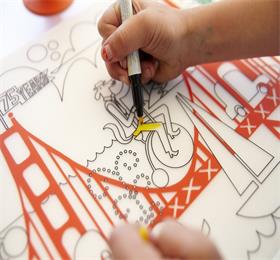 Not all silicone is the same. Many silicone baby placemats are packed with toxic fillers that can be harmful to your health and our environment. Hanchuan silicone uses only 100% pure silicone that is derived from some of the most abundant resources on our planet, sand and air. Offering a fashionable, functional and safe design that will delight parents, the USSE mark-mat placemat is ideal for providing kids with a clean eating surface while nurturing their inner artist.
This reusable placemat features a whimsical motif designed by an independent artist that your child can color with Dry-Erase markers (not included). after each use, the mark-mat can be made like new with a wipe from a damp cloth or a rinse -- it can be colored again and again. It's also dishwasher-safe and won't crease or rip. Ideal for use on tabletops at home, at restaurants, or on the go, the flexible mark-mat rolls up for easy portability without damaging it. Reusable coloring silicone baby placemat made from FDA-approved, food-grade silicone that helps provides fun at mealtime at home or on the go. Features a playful, silk-screened design by an independent artist that a child can color with dry-erase or washable markers. Easily cleans after use by wiping down with soap and water; dishwasher safe.
For more information, why not contact Hanchuan online service:
please login in: http://www.hcsilicone.cn/articles/info.html
Skype: caiyuan991