Company News
USSE this silicone placemat for kids. Easy to carry that can provide a clean surface wherever you go.
Publish Date: 2017-09-05 Click: 116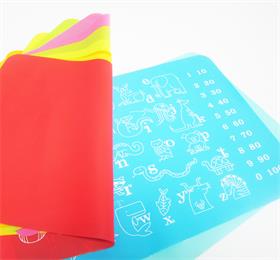 Hanchuan silicone gel factory USSE silicone placemat for kids, with a sanitary surface, wherever you go, you could tale it out. So easy to carry that can provide a clean surface for you wherever we go. Great for home use, traveling and restaurants. Protect against dings and scratches and ensure a clean eating surface. Our USSE ultra slim silicone placemats fold and roll easily to fit bags and compartments.
100% silicone will retain color and shape when stretched, Thickness of mat: .1cm ; Length of mat: 16" ; Width of mat: 12". Make cleaning a breeze & help promote a sustainable future. Make cleaning breeze and help save our planet. Wash with a damp cloth or place in dishwaser when there's extra grime. Food-grade materials. No added chemicals, and all natural vegetable dye. By opting for resuable placemats, you help reduce single-use waste and protect our planet for future generations. We love that!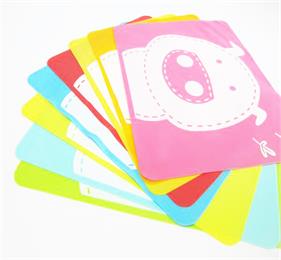 USSE these silicone placemats for kids are 100% food grade, BPA-free, PVC-free, and Phthalate-free. They provide a safe and sanitary surface to eat food directly on the mat, great for toddlers and kids. No more worrying about unsanitary public surfaces and spills! Our silicone placemats are moisture resistant and waterproof. Unlike standard silicon mats which are very thick and rigid, our mats can fold into bags, lunch boxes and backpacks without taking up valuable space.
Due to being optimized for travel and storage, these silicone placemats for kids are 1mm in thickness and very flexible, we do not recommend purchase if you are looking for stiff or rigid silicone mats. Easy to clean with a damp towel, rinse under the sink or place in the dishwasher. Use this for baking in the oven (use only between 40 ℉ - 460 ℉), or as a hot plate when you don't want to place a hot pot on your kitchen counter.
For more information, why not contact Hanchuan online service:
please login in: http://www.hcsilicone.cn/articles/info.html
Skype: caiyuan991