Company News
Silicone insulation pad with circular design, not only for the hotel, more suitable for home use
Publish Date: 2017-06-26 Click: 336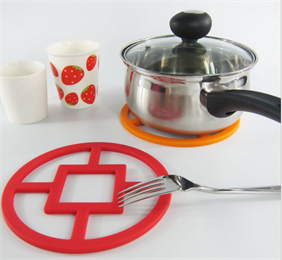 There are many silica gel products on the market, including silicone insulation pad, silicone ice tray mold and so on, and they have many different uses. In the production process, the silicone insulation pad may be influenced by the raw materials, operation and other factors, there will be some bad products, such as bubble bad, which requires experienced operators use environmental protection material made with silica gel.
USSE silicone insulation pad more, diverse styles. Among them, the silicone insulation pad with round design, that is, silica gel honeycomb pad, silica gel pot pad, is a silicone insulation pad products in a common style. At the same time, non stick, high temperature resistance and so on. Our glass mat product has passed the FDA/LFGB quality inspection, guaranteed that the broad masses of users may safely use.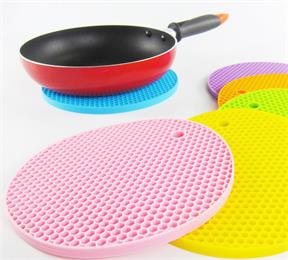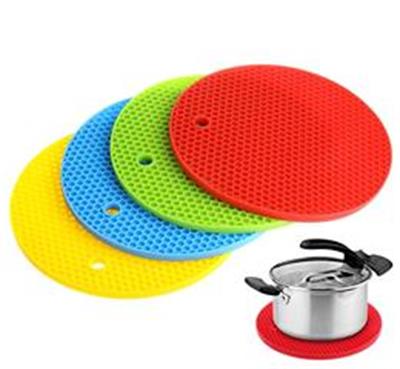 The food that comes out from the kitchen is very hot and is directly placed on the dining table. It is easy to make the surface of the dining table hot and deformed. To avoid this, we used a heat shield on the dining table. Insulation pads are not a modern invention, but modern thermal insulation is far superior to the past. Hanchuan silicone USSE brand silicone insulation pad, now in hotels, restaurants and coffee shops are very common. The characteristics of the silicone insulation pad is mainly low carbon environmental protection, 100% food grade silicone; non-toxic tasteless, soft and antiskid shockproof and waterproof, heat insulation, durable.
Silicone insulation pad with circular design, not only for the hotel dining pad, more suitable for home use. It not only can pad on the plate, but also can be used as heat insulation gloves, clean and convenient, which can also be placed in the dishwasher cleaning. Now many families are using silicone insulation pad, in particular is very common in Europe and the United States and Japan market, almost, instead of plastic wood products, bamboo products, insulation pads, Starbucks stores in the United States are almost all silicone insulation pad, coasters, not only environmentally friendly, more practical, 100% through two vulcanization, to ensure product quality, export Europe and the United States and Japan and other more than 100 countries.
For more information, why not contact Hanchuan online service:
please login in: http://www.hcsilicone.cn/articles/info.html
Skype: caiyuan991