Company News
Italiens Hotel Supplies importer orders black bottom silver design silicone placemat.
Publish Date: 2017-05-25 Click: 598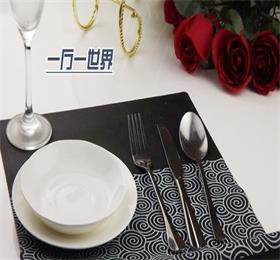 The Italiens Hotel Supplies Importers through a Shanghai hotel supplies exhibition, see Hanchuan industrial silicone placemat display. At that time, specially they want to understand Hanchuan silica gel factory USSE brand silicone pad printing process. The guests took out a sample of their own to show us, this mat is PVC material, Italy customers tell us what they think. They mainly want to use the silica gel material design this time, now the European and American countries basically are popular European style silicone placemat.
Silicone placemat using food grade material, the advantages of environmental protection, health, heat insulation, not fade and easy to clean. Tests have proved that the temperature of the silica gel can reach 230 degrees, and the material is soft, free of deformation, good in skid resistance and convenient to use. When ordering, be sure to buy 100% silicone, fake and shoddy products are not only poor quality, safety problems are not assured.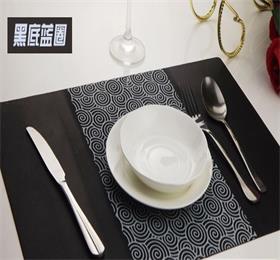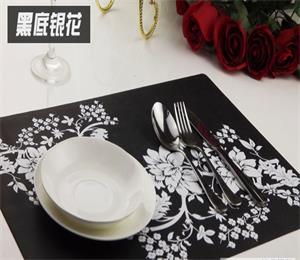 Hanchuan company foreign trade business Miss Wang communicates with the Italy customers for 10 minutes, to understand that this customer has previously custom silicone placemats. However, they were produced in Zhejiang in the past, because the price there is more advantage over there in Zhejiang, so why are you looking for an environmentally friendly supplier in Guangdong this time? Italy customers told Miss Wang that their purchases of silicone placemats were mainly for the five star hotels in Europe and america. Therefore, in product quality requirements are high, can not appear any problems, and especially want to have new innovation process.
We Hanchuan silica gel factory received the Italy customer requirements, convened members of the Department to discuss and begin to design, after several modifications to this silicone placemat design, customers see very satisfied. This European style silicone placemat, the biggest design innovation is in the silk screen has a breakthrough, the bottom of the meal cushion is black, the middle of the screen white spiral pattern, black and white contrast is particularly distinct. Requirements must comply with the EU LFGB testing standards, very strict, there are spot checks at the time of production, before shipment, requiring third party inspection.
For more information, why not contact Hanchuan online service:
please login in: http://www.hcsilicone.cn/articles/info.html
Skype: caiyuan991