Company News
The hotel ordering silicone pot holder, required hanchuan send sample to by YTO express.
Publish Date: 2017-05-02 Click: 647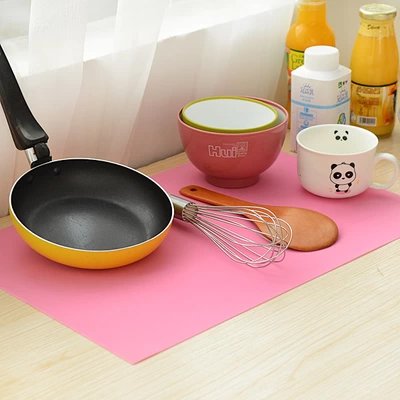 An hotel purchaser Miss Deng found Lee from hanchuan silicone domestic sales department on April 12, 2017, through alibaba Chinese platform. This customer wants to order a batch of silicone pot holder & placemat products. Through online search, they have found a lot of silicone products, but not very satisfied with the ordinary styles.
Later, with their colleague friends' introduction and recommended, seeing the hanchuan website, they found us more professional. Then, we were asked to send three samples to Shanghai for reference. Lee sent three samples of silicone pot holder to Miss deng as requested. Two days later, Miss deng received the sample and gave it to their manager. The Manager found it very satisfing, then demanded an immediate arrange color sample, red and purple two models, then arrange to order 5000, 15 days of delivery.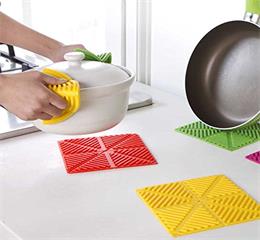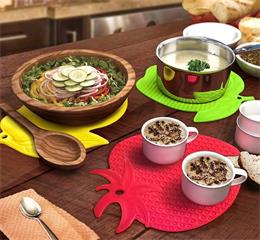 After received the advance payment the next day after we received the order, we immediately arranged for a silicon rubber factory to give the customer a color sample. The next day, with sample typed, the salesman immediately arrange sample sending to Shanghai, the customer receives the sample to confirm to us to produce.
The sample is determined to be delivered in 7 days. After the customer receives the goods, they are very satisfied with our service, and also promise to develop new products together next time. Hanchuan USSE silicon-rubber mainly exported to Europe, Europe and Japan. This silicone pot holder is characterized by high temperature resistance, aging resistance, durability, new shape and easy cleaning. It is made from 100 % food grade silicone and has been tested by the FDA for LFGB without any harm to the human body.
For more information, why not contact Hanchuan online service:
please login in: http://www.hcsilicone.cn/articles/info.html
Skype: caiyuan991