Company News
Canada wholesalers ordering a creative silicone popsicle mold, through FDA quality inspection.
Publish Date: 2016-07-07 Click: 706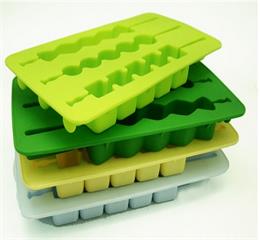 Last time, Canadian wholesalers ordering Hanchuan silicone ice tray maybe last year, and the earliest Hanchuan and cooperation is in 2012, and ordered two batches of silicone ice tray products; not long ago, the daily necessities Canadian wholesalers and selected our company this creative silicone popsicle mold. Guests first to look at the model, we immediately sent 6 model to the guests. Guests receive the sample after the election of two colors, green and orange. Guests promised to take the model to FDA test. If the test is passed immediately under a single production, orders for 30000PCS.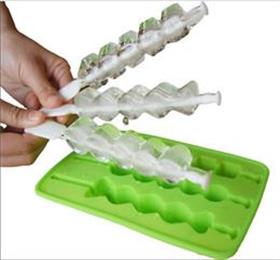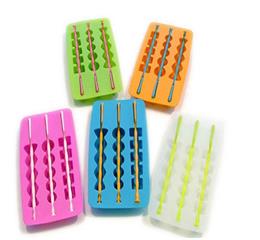 Hanchuan industry this silicone creative popsicle mold is introduced by the company in 2012 and have been exported to Europe and America has more than 30 million pieces. The Canadian guests already is not the first time ordering this product the, in full compliance with FDA testing requirements. Guests ordered 30000 pieces, a total of two colors, product packaging is plastic and colorful card, blister is pet environment-friendly materials, is in Hanchuan brothers Kingsmart production, color card is 350g imports of coated paper. The packaging effect is very beautiful, packaging and printing of documents are customers to provide their own to us.
It is understood that the Canadian guests is to buy their own in the supermarket sales, so it has own label and bar code, we provide OEM service. This silicone creative popsicle mold production is very smooth, no any technical difficulty, non-performing rate of product production control is very good, 3 million pieces of products produced a total of 10 days, packaging spent a week's time, this batch of orders completed very smoothly.
silicone ice cube tray: http://www.hcsilicone.com/
silicone ice shot glass: http://www.hcsilicone.com/products/siliconeicecubetray.html
silicone fiber glass mat: http://www.hcsilicone.com/products/siliconefiberglassmat.html
For more information, why not contact Hanchuan online service:
please login in: http://www.hcsilicone.com/articles/info.html
Skype:caiyuan991