Company News
Why and How to make coffee ice cubes with 8 cavity silicone ice cube tray?
Publish Date: 2016-04-22 Click: 697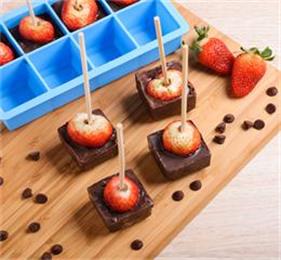 If you're the one to brew your coffee at home before heading off to work, there's an easier way to make iced coffee in a hot day, watered down coffee is the last thing you want to drink. Freezing coffee as 8 cavity silicone ice cube tray creates a richer way to enjoy a full tasting iced coffee drink for the duration of the drink.
To get started, grab an unused silicone ice tray and determine how much liquid it holds. Next, brew the coffee. The most ideal brew method for this application is cold brew, as it is often brewed as a concentrate and lacks the bitterness sometimes produced by hot brewing methods.
If you don't have the time or equipment for cold brew, any other brew method will work. You will just want to brew the coffee stronger than usual by using a higher ratio of coffee grounds to water.
If you hot brewed the coffee, let it cool for about 10 minutes before filling the 8 cavity silicone ice cube tray. To allow for volume expansion, don't fill the molds entirely -- leave about an eighth of an inch (3 millimeters) of space from the top of the mold.
Place the tray in the freezer overnight.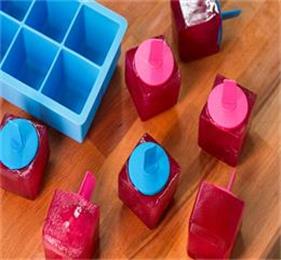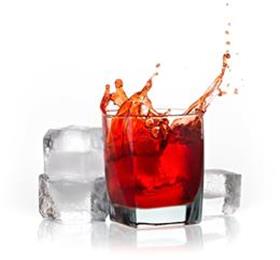 What are the applications to the coffee ice cubes?
After you've done all the work and have a handful of coffee ice cubes, there are several ways to put them to good use.
Shaking hot coffee and the coffee ice cubes together will flash chill your morning brew without watering it down.
Pour some milk or cream over the coffee ice cube for coffee-flavored milk with your breakfast.
Use the coffee ice cubes to make coffee-flavored cocktails. This pairs nicely with whiskey, tequila or cream liqueur, especially if you use a lighter-bodied single origin coffee.
If you used cold brew concentrate, toss a couple cubes into a travel mug with equal parts water before going hiking. You should already know the volume of the cubes, so multiply that by the number of cubes (three 100 milliliter cubes would require 300 milliliters of water). Larger cubes will take a few hours to fully melt.
Throw a few cubes in a blender with frozen fruit, greek yogurt, peanut butter and flaxseed for an energy boosting smoothie.
Can you make popsicle snacks?Need square silicone ice cube tray?
Hanchuan industrial 17 years' design and develop 8 cavity silicone ice cube trays, OEM silicone ice cube tray in China, which exporting to more than 100 countries. More details, please send e-mails to sales@cszhc.com.
For more information, why not contact Hanchuan online service:
please login in: http://www.hcsilicone.com/articles/info.html
Skype:caiyuan991