Company News
Can you make popsicle snacks?Need square silicone ice cube tray?
Publish Date: 2016-04-21 Click: 717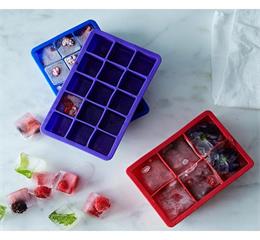 Popsicle snacks are really fun to make and serve at parties and home, having a picnic at the beach, or anywhere else where you're trying to cool down during the hot days of summer. And they're not only refreshing but they taste simply delicious!
Detailly popsicle snacks making steps:
1. Pour any flavor juice into an square silicone ice cube tray. Get the children to pick the flavor if it's for them. In fact, get them to help you make these all the way.
2. Cover the tray with plastic wrap. The covering need to be tight enough for the next step to work properly.
This step should be done or overseen by a mature person who is able to carefully stretch the plastic as needed.
3. Stick the toothpicks inside the tray. Poke each one straight through the tight layer of plastic wrap into an individual ice cube hole. Make sure they are standing up somewhat straight and try to center them.
4. Put the tray in the freezer. Let the juice freeze for 24 hours.
Avoid taking the ice tray out of the freezer to check too often, because this can slow down the freezing process.
5. Take the ice tray out once the juice squares are frozen. Remove the plastic covering by pulling it up over the sticks.
6. Decide how you'll serve them. If it's really informal, just let everyone grab a stick straight out of the silicone ice cube tray. If it's more formal, such as for a party, take the Popsicles out and arrange them individually on a serving platter. Don't delay the serving as these will melt. Enjoy – these are perfect for a hot summer's day.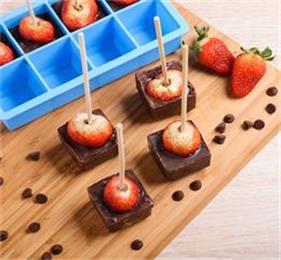 Things You'll Need:
Any shape ice tray, including square silicone ice cube tray;
Cling wrap (food quality plastic wrap)
Toothpicks – choose quality, strong toothpicks as shown in the images
Freezer
Tips for you to make popsicle snacks:
Try putting the juice in some crazy-shaped ice trays, such as stars, hearts, moons, etc. You can still stick cover the whole tray with the wrap and stick in the toothpicks; you'll just get cuter individual shapes;

When filling the square silicone ice cube tray, don't fill it up too much, because the liquid will expand as it freezes;
Be creative and replace the juice with yogurt and add fruit pieces to make a nutritious "frozen yogurt bar";
You can even make the ice pop with soda or a milkshake;
You can add a bit of alcohol to these snacks if you like, but if you do, turn your freezer to its lowest setting. The more you add, the harder it will be to freeze them;
Watch children eating these, as the toothpick's sharp end could injure them if swallowed or poked in the wrong place.
Hanchuan industrial 17 years' design and develop square silicone ice cube trays, OEM silicone ice cube tray in China, which exporting to more than 100 countries. More details, please send e-mails to sales@cszhc.com.
For more information, why not contact Hanchuan online service:
please login in: http://www.hcsilicone.com/articles/info.html
Skype:caiyuan991