Company News
Hanchuan silicone factory supplies silicone fiberglass baking mat, which is suitable for baking and sugar art operating!
Publish Date: 2015-12-29 Click: 812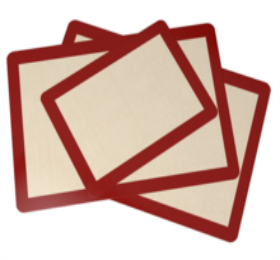 All of these Hanchuan silicone factory silicone fiberglass baking mats, known as glass fiber reinforced silicone baking mats, are for 100% platinum vulcanization process (commonly known as platinum silicone). Differed from the domestic similar common silicone mat products, they have passed through the universal standard agency SGS according to the world's most stringent FDA standards, German LFGB food standards. Thus, they are non-toxic harmless and food grade.
Every piece of this silicone fiberglass baking mats matches independent packing, which is suitable for baking, especially suitable for sugar art operation. When put in any place, it can absorb mesa, and won't move. Seemingly mesh in the middle, to enhance the actual glass fiber to make silicone mat more resistant to high temperature and stability.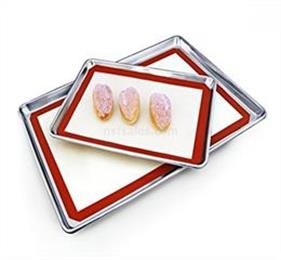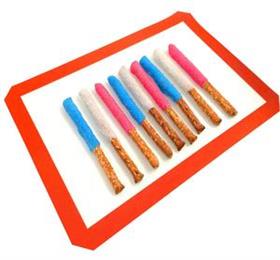 Performances of hanchuan OEM factory these silicone fibe glass baking mats:
The food safety - through the European Union, Germany, the United States of rigid level of food inspection standards, to 40 ° C to 280 ° C high temperature safe use.
The durable service life - baking reuse times is more than 4000 times, silica gel pad inside the glass fiber reinforced design make the silicone pad has long service life.
Permanent glue, silica gel properties, permanent non-stick, also won't lose due to abrasion can not sticky.
Super adsorption, adsorption ability, can adsorption live like woodiness desktop, such as stainless steel, glass, marble desktop desktop desktop all kinds of work station, especially sugar art lamp operation table.
Clean and environmental protection - bake without oil use, demoulding is very easy.Especially suitable for sugar solution into the sugar, sugar etc.Is an indispensable tool in the operation of sugar.
Super easy to wash, water or soft cloth graze can clean the silicone pads, or brush gently with a small amount of detergent to clean.
When not usually use, deposit can be rolled up, does not occupy a space.