Company News
Hanchuan silicone glassfiber mat clean and eco-friendly, What features will glass fiber reinforced?
Publish Date: 2015-12-23 Click: 775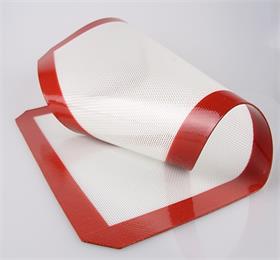 Hanchuan industrial OEM silicone factory is specializing in the production, development and design of high quality food safe silicone fiberglass mat, which uses food grade silicone raw materials. Products comply with FDA and LFGB, of which intermediate for glass fiber layer helps to strengthen the tensile properties of the silicone, not sticky, heat-resistant features. That makes it better used for baking food, and can be used as table mat, desk pads, insulation pad, and dough pad.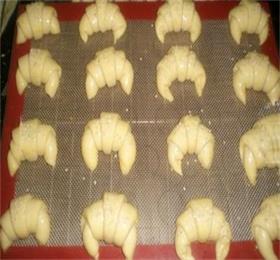 The main features of silicone glassfiber mat:
Temperature withstands from 70 ℃ to 280 ℃;
Good flexibility and tear resistant;
Good abrasion resistance, surface friction coefficient is 0.05 0.1, dielectric constant is small.
Anti-aging, not burning, viscous resistance is excellent.
Resistant to all kinds of edible acid, alkali, salt corrosion, etc.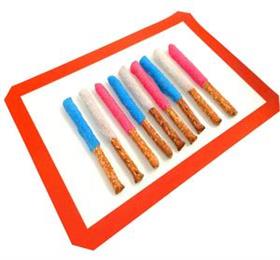 8 advantages of Hanchuan silicone fiberglass mats:
Factory direct sales, avoid too much of the intermediate links, feedback customers to the greatest extent.

Food safe - through the European Union,and the United States of rigid level of food inspection standards, to 40 ° C to 250 ° C high temperature safe use.

The durable service life - baking reuse times is more than 4000 times, silica gel pad inside the glass fiber reinforced design make the silicone pad has long service life.

Permanent glue, silicone properties, permanent non-stick, also won't lose due to abrasion can not sticky.

Super adsorption, adsorption ability, can adsorption live like woodiness desktop, stainless steel, glass, marble desktop desktop desktop and work station is ideal dough workbench, work roll surface board, is also the ideal west pot pad.

Clean and environmental protection - bake without oil use, demoulding is very easy.Can be used as sugar not sticky pad.

Easy to wash, water or soft cloth graze can clean the silicone glassfiber mat, or brush gently with a small amount of detergent to clean.

Easy to store up - when it is not used usually, deposit can be rolled up, does not occupy a space.
More informations, please login in: http://www.hcsilicone.com/articles/info.html
E-mail: sales@cszhc.com
Skype:caiyuan991