Company News
Eco-friendly silicone ice tray_for your Political Party of 2 sets from Hanchuan industrial!
Publish Date: 2015-07-24 Click: 871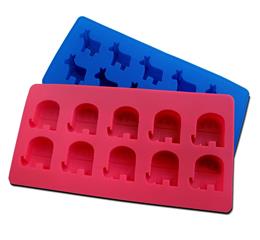 These eco-friendly silicone ice trays are the perfect gifts for this election year! That Political Party" 'donkey' and 'elephant' shaped molds are made from state-of-the-art food-grade silicone that can withstand temperatures from -40-degrees to 425-degrees Fahrenheit.
The material is also flexible enough that you can easily get the ice - or cookies, or candy - out of the wonderful molds without breaking your wrist! The eco-friendly silicone ice trays come in packs of two, with ten (10) of the Democratic 'donkey'. or Republican 'elephant', icons in each tray.
Allows you to push ice, or candy out of mold. No more banging of ice trays to get ice out!
Can be used for ice, candy, or chocolate!
Product Dimensions of eco-friendly silicone ice tray: 11 x 4.5 x 0.8 inches ; 4 ounces
Shipping Weight: 12.8 ounces
- To see more at: http://www.hcsilicone.com/articles/info.html
- Contact us: sales@cszhc.com