Company News
Apple shaped silicone ice tray_ Red silicone novelty gift for you from hanchuan industrial!
Publish Date: 2015-07-23 Click: 809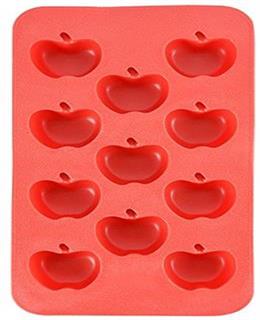 Can you put an apple shaped silicone ice tray in the oven? At what temperature? In fact, I don't think you can put them in the working oven. I haven't tried but I wouldn't want to try. Imagine that they would melt. I pour hot chocolate into them when making chocolate but that isn't nearly as hot as an oven. You could maybe put it on a flat cookie sheet and try though, that way if it melts or anything the cookie sheet will collect the mess
Perfect apple shaped silicone ice tray for your next party
Makes 11 apple shaped ice cubes
Great novelty Christmas or birthday gift
Measures 7.625 X 4.125 X .625"
Hanchuan industrial apple shaped silicone ice trays are the perfect companion for your next home or office party. Liven up any drink with these festive ice cubes! These make a great novelty, joke, or Christmas white elephant gift.
- To see more at: http://www.hcsilicone.com/articles/info.html