Company News
Chrismas silicone ice tray exported America by Hanchuan exclusive design!
Publish Date: 2014-11-12 Click: 1173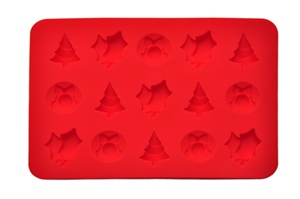 We began to cooperete with American customer in 2013. And they have ordered Christmas silicone ice tray since 2013, silicone placemats, silicone table mat and other silicone bakeware products. Besides silicone mat was in a substantial increase order in 2013. The new design style and constantly enrich . Silicone -based materials are environmentally friendly and comply with EU LFGB testing standards.

American customer Ordered this Chritmas silicone ice tray, which is exclusively designed by Hanchuan ,
Product size:

21.5*10.0*1.5 cm

,
weight: 60g.
Chritmas silicone ice tray is 100% food grade silicone material. The product design is unique, creative more stylish , simple shape , design inspiration mainly Blocks from a child 's intellectual development products , the children particularly like , a total of six colors to choose from .
American ordered this Chritmas silicone ice tray of 30,000 pieces. After a very good sale in October 2013 and he ordered 50,000 /pcs for this silicone table mat. We send it by air to France. Hanchuan is professional design and manufacture silicone items for more than 13 years. we exported to Europe and Japan, more than 80 countries. There are thousands of models of styles, welcome home and abroads to order !
custom silicone cup coaster:http://www.hcsilicone.cn/html/news/201403/1866/1.html

New creative food grade silicon table hot pad:http://www.hcsilicone.cn/html/news/201312/1827/1.html
- See more at: http://www.hcsilicone.cn/html/news/201407/1962/1.html#sthash.y549OZjP.dpuf