FAQ
How to bake cakes in your microwave
Publish Date: 2014-07-24 Click: 2798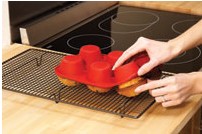 Chocolate cake taste test – oven versus microwave
You can bake cakes in a solo microwave and their instruction booklets often provide recipes that give novice bakers a few ideas. But are microwave cakes as good as cakes baked in a traditional oven?
We put this to the test by baking chocolate sponge cakes in a solo microwave and an electric oven using the same recipe and batch of ingredients.
We then asked the cake-baking experts of Thundridge and High Cross Women's Institute (WI) to taste the cakes and tell us which one they preferred.
Microwave cake taste test
20 WI members tasted two slices of cake each without knowing which was baked in a solo microwave and which was baked in an oven.
There's no fooling the ladies of the WI – 19 out of 20 said that they preferred the cakes baked in a traditional oven.
They told us that the oven cakes were more moist than the microwave cakes, which were a bit dry – but none of the tasters disliked the microwave cakes.
So if you're making a cake in the microwave, to stop it drying out make sure that you don't over-cook it.
And why not serve it soon after it's been baked so it's nice and warm – but make sure you leave it to stand for a few minutes first.
Silicone bakeware is the easiest option for baking in your microwave.
Silicone is non-stick so you won't need to line you cake trays or use cake cases for fairy cakes.
It's also flexible so you can easily press out your finished cakes. And you can wash it in the dishwasher.
For more information about Custom silicone cake pan, silicone baking pan ,OEM silicone baking pan,
please contact Grace Liu at hc01@cszhc.com tel:0755-26581926
For more information,please contact Grace at hc01@cszhc.com
Tel:+86-755-26581926-811
- See more at: http://www.hcsilicone.cn/html/news/201304/1567/1.html#sthash.cnQKZNg0.dpuf