Domestic customer
Ricoh (China) investment Co., LTD. Introduction
Publish Date: 2014-07-24 Click: 1555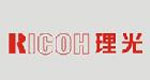 As the world's first "OA" concept the participant, ricoh always adhere to the constant innovation in order to meet the demand of The Times. Because digital and the development of the network, the existing office environment is going great changes. Ricoh put forward "Image Communication" new office concept, the company to clearly positioning digital and color as the core technology, realize Image processing and the perfect fusion of computer technology, in order to constantly create a new type of business Communication environment, to a full range of services, push the client more effectively into an unprecedented information sharing realm.
Corresponding to the Chinese market of the digital and network development trend, ricoh (China) investment Co., LTD. Also committed to Chinese customers with better products and services. By providing copy machine, printing machine, printing machine, engineering machine, fax and system solutions, digital equipment and high quality services, ricoh won customer consistent support and love.
In the future we will still continue to stand in customer's position, with the needs of the customers as the starting point, anytime, anywhere for customer productivity improvement and the knowledge creation contribution to make. We expect lead customers from "the price guide" to "high quality" change direction, establish a emphasis on "quality" and "value" of the market. Strive in the copier and printer market share, customer satisfaction and environmental management to be a "image information communication industry No. 1 enterprise".